I don't always read McLaren, but when you do read this one…
CNN Belief Blog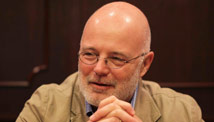 Editor's Note: Brian D. McLaren  is author of "Why Did Jesus, Moses, the Buddha, and Mohammed Cross the Road? Christian Identity in a Multi-Faith World" (Jericho Books/Hachette Book Group). 
By Brian McLaren, Special to CNN
I was raised as an evangelical Christian in America, and any discussion of Christian-Jewish-Muslim relations around the world must include the phenomenon of American Islamophobia, for which large sectors of evangelical Christianity in America serve as a greenhouse.
At a time when U.S. embassies are being attacked and when people are getting killed over an offensive, adolescent and puerile film targeting Islam — beyond pathetic in its tawdriness – we must begin to own up to the reality of evangelical Islamaphobia.
Many of my own relatives receive and forward pious-sounding and alarm-bell-ringing e-mails that trumpet (IN LOTS OF CAPITAL LETTERS WITH EXCLAMATION POINTS!) the evils of Islam, that call their fellow…
View original post 823 more words